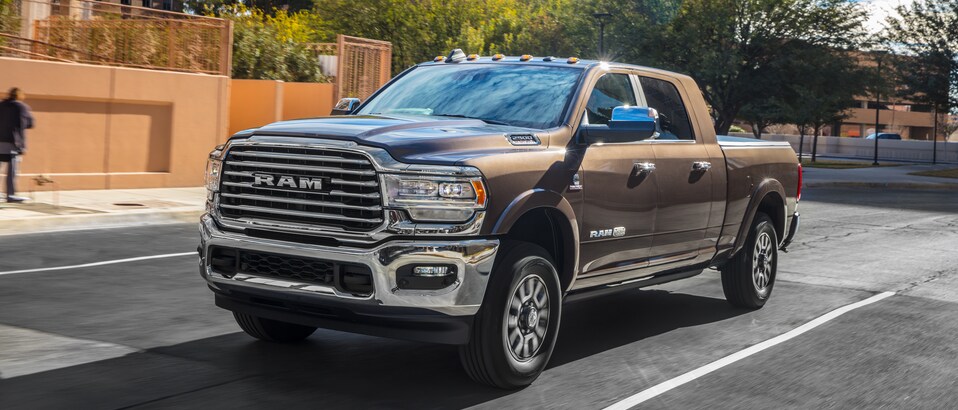 Ram 2500 for sale in Del Rio, Mineral Wells & Fort Stockton, TX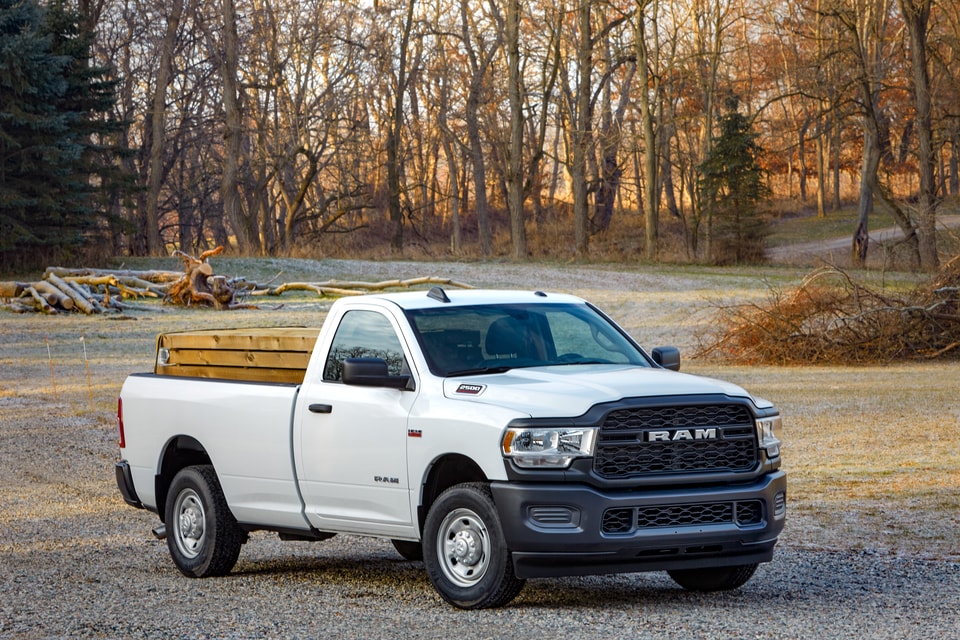 The Most Versatile Heavy-Duty Pickup in Del Rio, the Ram 2500 Boasts the Best
Whether gas-powered or diesel, 2WD or 4WD, red or blue, there's no power like the power of the versatile and smart new Ram 2500 HD. As the most flexible and efficient of Ram's heavy-duty truck lineup, this three-quarter-ton pickup truck can haul tree stumps out of the woods as easily as it can draw glances at a downtown event. Explore new truck options today at Ram Country Truck Center.
With three centrally-located dealership in Del Rio, Fort Stockton, and Mineral Wells, we're sure to have a Ram 2500 truck to fit the needs of any driver in Fort Worth, Laughlin Airforce Base, and Val Verde County; if we don't have your perfect specifications in stock, use the TruckFinder App to tell us exactly what you're looking for so we can track it down.
Ram 2500 Body Styles, Trim Levels, and Configurations
There are multiple ways for you to configure the ideal heavy-duty truck for your needs, include three cab styles, two bed lengths, two drivetrain options, three engine options, and over half a dozen trim levels; mix and match or browse available trucks for sale to see which one is best for you.
The Ram 2500 is offered in Regular Cab, Crew Cab, and Mega Cab styles--Regular and Crew offer an 8' box, Crew and Mega offer a 6'4" box. All models come standard with a 4x2 system for cost and efficiency, but 4x4 four-wheel-drive systems are optional on all new 2500 trucks. Once you know the style you want, browse through trim levels like the practical and affordable 2500 Tradesman, SLT, and Big Horn, the powerful and off-road-ready 2500 Power Wagon or Outdoorsman, the well-equipped and comfortable Laramie or Laramie Longhorn, and the top-of-the-line 2500 Limited. To learn more about each available trim level, scroll down a bit further for a more in-depth analysis.

Ram 2500 Comfort, Convenience, and Cargo Capacity
While this truck is a brawny beast for sure, that doesn't mean it doesn't also have a bit of a soft side; the Ram 2500 is surprisingly sophisticated for being such a workhorse.
Available interior options for the new model include technology like a class-leading 8.4-inch touchscreen with Uconnect infotainment system, a 7-inch Multiview display to show all of your necessary vehicle information, and even an available cargo-view camera that lets you keep a close eye on the contents of the truck bed. You can even opt for integrated Wi-Fi, so you can stream hunting videos and news right in your truck.
Work-grade vinyl seating is available for Del Rio and Mineral Wells drivers who put their trucks' interiors through the wringer--but if you want an added dose of luxury comfort (and you choose to hose off your boots before you get back into the truck) leather upholstery trim is an option on multiple models.
Thanks to the signature RAMBOX cargo management system, built-in under-seat storage on Crew and Mega Cab trucks, and a spacious cabin, your Ram 2500 can handle all of your gear with ease. Try one out for yourself today.
Ram 2500 Engine and Performance Specs
The new Ram 2500 offers choice of three unique and intelligent engine options:
a standard 5.7-liter HEMI V8
an optional 6.4-liter HEMI V8 with fuel-saver technology
a legendary 6.7-liter Cummins Turbo Diesel inline six that offers up to 800 pound-feet of torque
Explore new models to see horsepower and torque ratings, fuel economy, and more.
Ram 2500 Towing and Payload Capacities
While towing and payload will vary somewhat by configuration, the three engine options do offer a capable range of hauling capabilities to fit a variety of needs:
The 5.7-liter V8 brings standard pulling power of nearly 14,000 pounds, with a carrying weight of over 3,000 pounds. Boost up to the efficient 6.4-liter V8 for over 16,300 pounds of towing and nearly 4,000 pounds of payload capacity.
For the absolute best in show, choose the Ram 2500's available 6.7-liter Turbo Diesel I6: nearly 18,000 pounds of maximum towing capacity, and over 3,100 pounds of payload.
Ram 2500 Trucks for Sale near Del Rio, Mineral Wells & Fort Stockton, Texas
Don't go climbing tree stands to spot a great deal on a new Ram 2500--just visit Ram Country Truck Center in Del Rio to browse inventory, see specials and lease deals on new models, and compare to other new Ram trucks in the showroom.
True Texas Grit in Every New Ram 2500 Trim Level and Grade: Explore Model Overviews Here
For tried-and-true heavy-duty performance with the convenience and versatility of an everyday driver, the Ram 2500 HD truck--available in Del Rio, Fort Stockton, and Mineral Wells--is an optimal choice. It's one of the most flexible truck options within the Ram model lineup, offering choice of Regular Cab, Crew Cab, and Mega Cab, 6'4" or 8' box, and 2WD or 4WD capability.
And, with a variety of distinctive trim levels, the newest Ram 2500 truck gives you more ways to customize your heavy-duty truck to fit your exact work needs and lifestyle.
Explore all new Ram 2500 trim levels below to get a general feel for what sets these unique truck options apart. Browse inventory to see more specs and model research, contact our truck experts, or visit your local Ram Country dealer in the great state of Texas to see the new 2500 HD in person.
(Towing and payload capability may vary by configuration. See dealer for details.)
Ram 2500 Tradesman
Max towing: 17,390 lbs
Max payload: 3,990
The Ram brand's ultra-practical entry-level truck model, the Tradesman is affordable for every budget, but still offers standard features like halogen quad headlamps, an 18,000-lb Class V trailer tow hitch, and cabin power outlets.
Ram 2500 SLT
Max towing: 17,390 lbs
Max payload: 3,990
Very versatile, the SLT lets you choose between three cab style and nearly a dozen color options; upgrade with available features like power sliding rear windows and you've got yourself an exceptionally comfortable V8 heavy-duty pickup truck.
Ram 2500 Big Horn
Max towing: 17,510 lbs
Max payload: 3,610
Like with many of the entry-level 2500 models, the Big Horn comes standard with a 5.7-liter HEMI V8 engine, but adds standard fog lamps and an anti-spin rear differential for more confidence when driving in rough conditions. Available premium cloth seats and a Uconnect 8.4NAV system with touchscreen infotainment and navigation are the icing on the cake.
Ram 2500 Laramie
Max towing: 17,510 lbs
Max payload: 3,610
Traditionally one of the more luxurious options in the lineup, the 2500 Laramie doesn't disappoint--standard features include dual-zone auto climate control, a rearview camera, premium sound system with nine speakers and a subwoofer, and LED interior lighting. This is the hard-working truck that lets you kick back and relax on the drive home.
Ram 2500 Outdoorsman
Max towing: 17,210 lbs
Max payload: 3,300
Perfect for those of us in Texas who prefer the quiet and solitude of the woods to the hustle and bustle of the city, the Outdoorsman is best friend to hunters, fisherman, and birders. Available only in crew cab, the Outdoorsman offers standard premium cloth seats, standard tow hooks, and available features like Uconnect 8.4 with touchscreen and dual 220-amp alternators.
Ram 2500 Power Wagon Tradesman
Max towing: 10,030 lbs
Max payload: 1,510
The fun and capability of a Power Wagon; the practicality and efficiency of a Tradesman. This model is the perfect balance of weekday workhorse and weekend warrior, boasting standard equipment like a 6.4-liter HEMI V8, Tru-Lok front and rear axles, front disconnecting stabilizer bar, and an electric winch. Available only in crew cab.
Ram 2500 Power Wagon
Max towing: 10,030 lbs
Max payload: 1,510
The legendary and original powerhouse, the Power Wagon brings the same capability and equipment as the Tradesman version, but adds remote keyless entry with AllSecure, and 17" aluminum wheels with all-terrain tires.
Ram 2500 Laramie Longhorn
Max towing: 17,510 lbs
Max payload: 3,610
The high epitome of Texus luxury, the Laramie Longhorn gives you comforts and amenities like dual-zone A/C for those hot desert days, front and rear park assist for tight downtown driving, premium Alpine sound, and even premium wood accents in the interior. A class act that can still outwork its rivals all day.
Ram 2500 Limited
Max towing: 17,510 lbs
Max payload: 3,610
Available in Crew or Mega Cab, the Limited is one of the most deluxe trim levels in the lineup, with wheel-to-wheel sidesteps, nine-speaker sound system, auto high-beam control, heated full leather front and rear seats, and even rain-sensitive windshield wipers.
Ram 2500 Power Wagon Laramie
Max towing: 10,030 lbs
Max payload: 1,510
If you've got the budget for it, no heavy-duty truck is as pleasurable to drive as the Ram 2500 Power Wagon Laramie; it brings the dirt-busting fun of the Ram brand's boldest truck and combines it with the backwoods-royalty feel of the Laramie to produce a vehicle that's as Texas as they come.
---
As you can see above, Ram's heavy-duty pickup truck comes in a variety of different trim levels. From the 2500 Tradesman, the 2500 SLT, the 2500 BigHorn®, the 2500 Laramie®, the 2500 Laramie Longhorn®, the 2500 Power Wagon®, and the 2500 Limited, there is surely something for everyone. Each trim comes in a variety of cab options--the Crew Cab, and the Mega Cab--and two cargo box sizes--6'4" or 8'--giving you the opportunity to find a truck that holds as much cargo and as many people as you want.
These Pickup Trucks also comes with a series of engine options providing different levels of power to be filtered through an available all-wheel drive.
Ram Engine Options
The Ram 2500 comes with three different engine options that each offer a different level of the performance and muscle expected of both a heavy-duty pickup and a RAM.
5.7-liter HEMI® V8
The smallest engine option comes with Variable Valve Timing to give you optimal torque over a greater RPM range. Its maximum torque is 400 pound-feet, and it unleashes a maximum 383 horsepower. This gives your Ram 2500 the capability to haul a maximum payload of 3,060 and tow a maximum 13,890 pounds.
Heavy-Duty 6.4-liter HEMI® V8
Moving up, the Heavy-Duty 6.4-liter HEMI® V8 is the largest gas engine option. It delivers a Best-in-Class gas horsepower of 410 and maximum torque of 429 pound-feet with two spark plugs for every cylinder. This innovation not only gives your Ram 2500 that class-leading horsepower and torque, but it does so while reducing its level of emissions. This engine also allows your Ram 2500 to carry a maximum payload of 3,990 pounds and hoist a best-in-class towing capability of 16,320 pounds.
6.7-liter Cummins® I6 Turbo Diesel
This legendary behemoth provides best-in-class capabilities and class-exclusive features.  These include a best-in-class oil change interval of 15,000 miles and a class-exclusive available six-speed manual transmission. This engine unleashes 370 horsepower and 800 pound-feet of torque. It boasts a maximum payload of 3,160 pounds and a maximum towing capacity of 17,980 pounds.
Find Your Ram 2500 at Our Dealership Today
You can read all about the RAM 2500, the different trim levels and engine options, and everything that this truck has to offer, but the only way you can really know if this pickup truck is right for you is by getting behind the wheel and experiencing the Heavy-Duty muscle for yourself. So, stop by the dealership for a test drive today. We proudly serve the present and future Ram Truck drivers across the Lone Star State from three different locations: here in Mineral Wells, and in Del Rio, and Fort Stockton. If you have any questions regarding our inventory of RAM 2500 Pickup Trucks, or any of our new or used Ram vehicles, please feel free to contact us directly either by email or over the phone for more information.