Comparing the 2021 Ram 1500 and 2021 Ram 2500: Which is Right For You?
At Ram Country Truck Center, we know how popular new Ram pickup trucks are among Texas drivers. But, with so many options available, it can be tricky to find just how much truck you need for your daily use. The Ram 1500 is a perennial favorite among our Del Rio, TX area customers, but what if you end up needing to tow an RV or haul some marble for a home renovation project? The Ram 2500 offers a large & in-charge alternative for drivers who may need more substantial towing and hauling capacities from their pickup truck. We're here to help compare the various advantages between the new Ram 2500 and 1500 so you can find which model will best suit your driving needs.
When it comes to both style and performance, there are a lot of similarities between the Ram 1500 and Ram 2500, but subtle differences separate them from one another. First, it's important to know that there are many different trim levels for each Ram truck model. For simplicity, this comparison will focus on the Ram 1500 Big Horn and Ram 2500 Big Horn trim levels. There are many options available for these trim levels, but both the Ram 1500 and Ram 2500 are also customizable. Visit our dealership in South Texas to view various Ram 1500 and 2500 models and see all they have to offer. Now, let's discuss what makes these trucks stand out against the rest.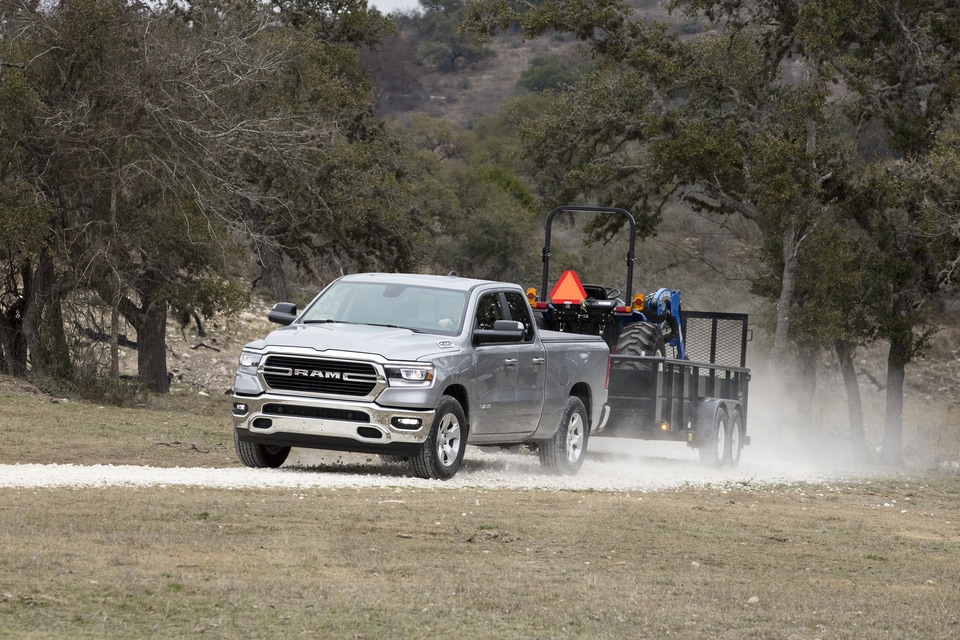 Image: Ram 1500 towing a tractor
Towing & Hauling
When it comes to towing and hauling, expect excellence from both the Ram 1500 and Ram 2500. The Ram 1500 pickup truck can tow a maximum of 11,320 pounds, and the Ram 2500 can tow up to 20,000 pounds. While 11,320 pounds might seem like a lot, we suggest the new Ram 2500 over the Ram 1500 if you need plenty of towing power. If you plan on using your Ram pickup truck for hauling campers and outdoor equipment, the Ram 1500 is a great choice.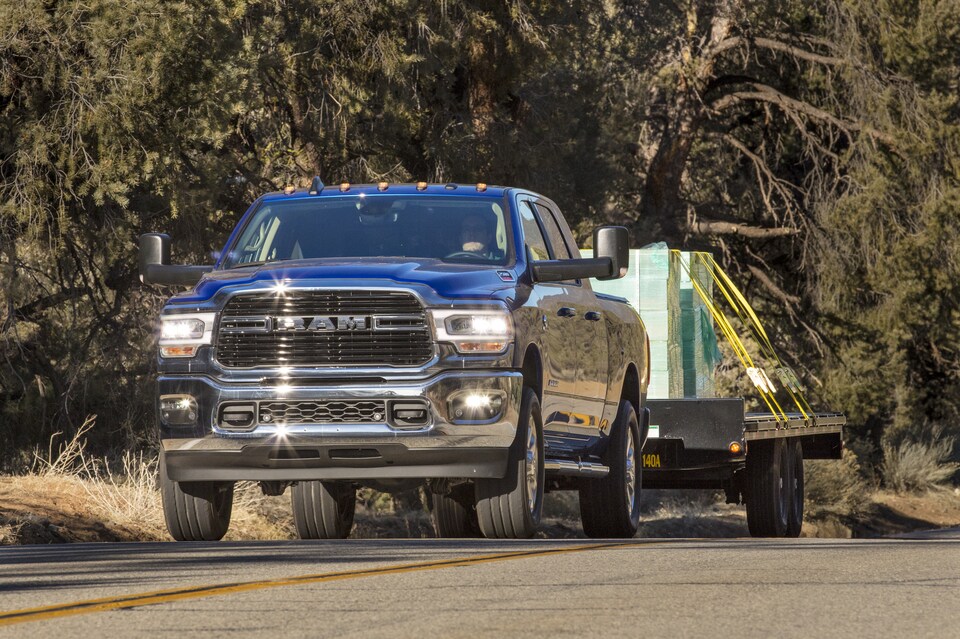 Image: Ram 2500 towing construction materials
Exterior & Performance
These trucks can have a gas or diesel engine, depending on which you desire. The Ram 1500 has a 3.6L V6 gas engine, and the Ram 2500 has a 6.4L V8 gas engine. With this engine, South Texas drivers can expect 305 horsepower at 6400 revolutions per minute (rpm) in the Ram 1500. The Ram 2500 will feature 410 horsepower @ 5600 rpm. The Ram 1500 and Ram 2500 heavy-duty trucks have similar body styles and exterior measurements; however, the 1500 is longer while the 2500 is taller.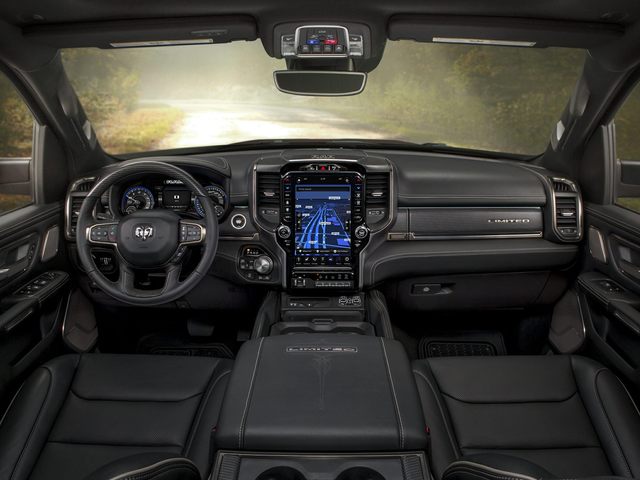 Image: Interior of the new Ram 1500 Limited
Safety & Technology Features
Interior and Technology
The Ram 1500 and 2500 have excellent safety and technology features. Both trucks have similar interior measurements, but the Ram 1500 has five more inches of rear legroom. Del Rio drivers can expect the following features in both the Ram 1500 and 2500:
Bluetooth connectivity for compatible smartphones
Available premium sound system
Satellite radio
Apple CarPlay® and Android Auto™
Available Wi-Fi Hotspot
Additionally, Eagle Pass drivers can expect cloth seats, a leather steering wheel, and a navigation system.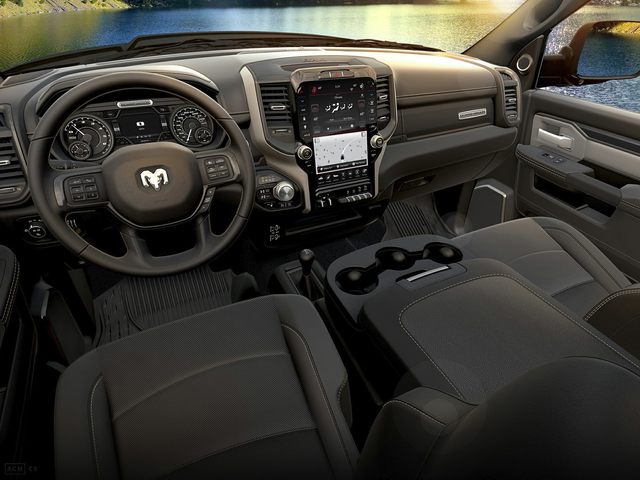 Image: Interior of the new Ram 2500
Safety Features
Driving around Rio Grande Valley becomes safer in both the Ram 1500 and Ram 2500. Both trucks come standard with blind-spot detection, lane-departure warning, and lane-keep assist. The Ram 1500 has a head-up display available. When activated, the head-up display fights against distracted driving by displaying important driver information on the windshield, slightly out of the driver's line of vision. You will find your current speed, fuel range, and temperature on the head-up display. It is also a great tool when hauling or towing something.
The Ram 2500 comes with adaptive cruise control. This safety feature helps ease the ride. While driving in cruise control, the adaptive cruise control manages space between you and the car directly in front.
Which Truck is Right for You?
Ultimately, the heavy-duty truck best for you depends on your personal preferences. If you envision yourself and your family traveling with bikes, campers, or camping gear, you might consider the 2021 Ram 1500. Texas drivers planning on using their trucks for commercial purposes, like construction work, the Ram 2500 might be the way to go. Both trucks feature excellent safety and entertainment technologies; it comes down to how much you plan on hauling.
Please contact us or visit Ram Country Truck Center in Del Rio if you have any questions or concerns. We have a knowledgeable sales department that can help assist you, as well. We look forward to hearing from you.